Want to get fitter, stronger and learn how to protect yourself? Then our classes are for you!
What are the classes like?
A typical karate class pattern includes meditation, warm-up, strengthening and stretching exercises to begin with.  At times, this may be in the format of cross-training drills or other fun activities, to achieve the same results.  Then we practice Kihon (basics), Kata (pre-arranges techniques in sequence) and Kumite (sparring).  However, apart from the above, no one session is the same.  We also incorporate Mixed Martial Arts (MMA) which includes; grappling and joint locking techniques, all round self-defence, body conditioning, boxing training and pad work.  Circuit training or a Fit 2 Fite session is also incorporated once a month to help retain overall fitness and stamina levels.  Parents of children are invited to participate if they wish to join in, at no cost.
Why join our karate school?
The East London School of Karate is a friendly, family orientated environment and you will feel welcomed from your very first visit.  Our aim is to cater for all your health and sporting activity needs and our karate and fitness regime offers a complete system of health, fitness and karate training.  With our support and guidance, your dedication and commitment, we aim to help you reach your intended goals.  All classes are mixed gender.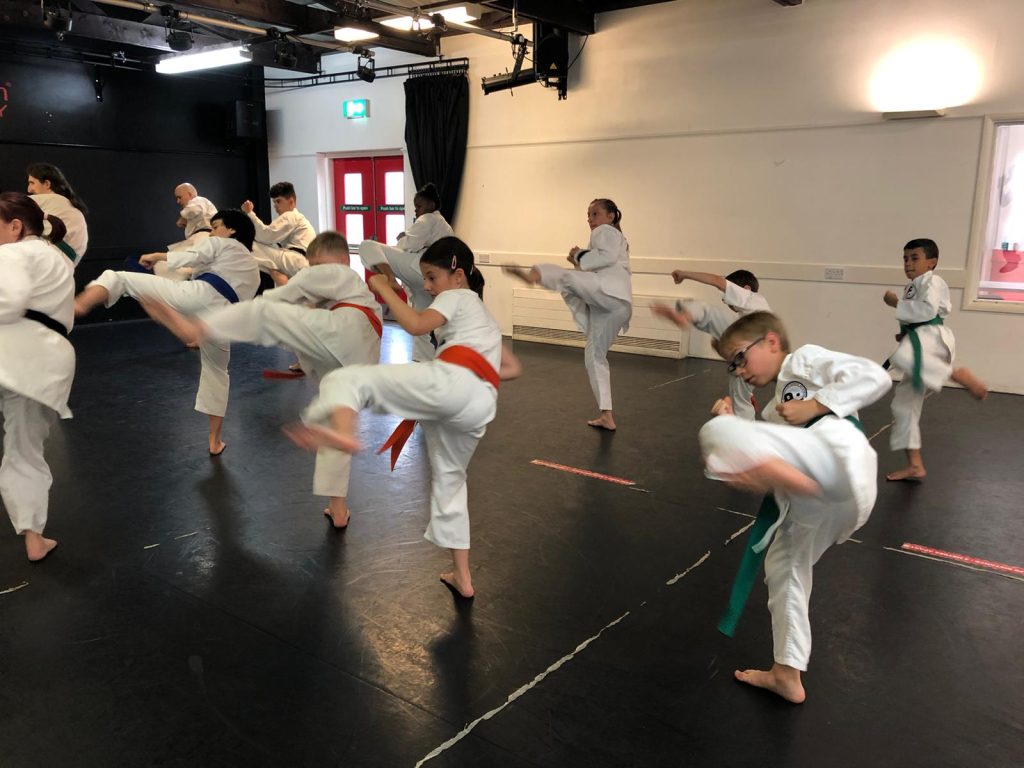 Free trial lesson
We offer a free trial karate lesson for anyone interested.  This allows you to try a class without any obligation to join.  You can wear anything loose and comfortable, also bring a bottle of water with you.  Please arrive at least 15 minutes before the class begins, so you can register and settle in.  You will be given an envelope containing an application form with all other information in regards to enrollment, if you should wish to join us.
New members
If you decide to enroll, you will need to return the completed application form with the payment.  The startup membership cost includes; Karate uniform, badge, annual insurance /licence book and an information welcome pack via email.  You will also find a Free Pass for a friend to come along and try a free trial karate lesson.
CLASSES ON OFFER
KARATE CLASSES FOR CHILDREN AND ADULTS
Days and times: Tuesdays and Thursdays 
4.30pm to 5.30pm: Children's classes (5 years and upward) all grades
5.30pm to 6.30pm: Teenagers (12 years and upward) all grades
6.30pm to 7.40pm: Adults (16 years and over) all grades
Karate Membership and class fees
For karate class membership, start-up and lesson fees, please contact us.  The starting age for children's karate is from 5 years
Payments
We accept payment by cash, card or standing order
PERSONAL TRAINING: One-to-one or Group sessions available

 
All private one-to-ones in; Karate – Exercise – Yoga & Meditation sessions for members are £25.00 for one hour /Non- members should contact us for prices.  Group session discounts are also available, contact us for prices (visits only).
INDIAN HEAD MASSAGE THERAPY
Authentic Ayurvedic Indian head, neck and shoulder massage /Neck and shoulders only
This is a unique 30 minute touch therapy.  It works on the upper body – relieves muscular tension, alleviates mental stress and tiredness and balances chakra energy.  You will feel totally relaxed and rejuvenated.  One-to-one or group bookings are also available, contact us for prices (visits only).  
The ELSK welcomes everyone!